Leaking Drains
Drain Leak Detection
Drainage problems can go undetected for a very long period and may be "Out of sight and out of mind". The first thing a property owner knows is the toilet is backing up or there is an unusual smell which wasn't there before.
Can you smell drains inside your house or outside? Do you know if you have an internal drain which could be leaking? It is not nice to think that just inches under your feet there may be effluent leaking into a floor void. There are lots of things that can damage drains age, trees poor workmanship etc.
A simple pressure test may be all that is needed to show if a drain is leaking or not. The Leak Team can help.
The Leak Team can quickly and easily come and inspect your drains with our full colour CCTV drain survey video camera, inspecting the pipes to look for signs of damage, for example where roots have grown through a pipe, or where there has been a collapse.
Inside your property we can take a closer look at a leaking waste pipe or drain with the minimum of disruption. By drilling a discreet hole, we are able to look under floors to inspect a waste pipe, rather than pulling up flooring and floor boards which causes expensive and inconvenient reinstatement works. We can also determine if leaking water is coming from the mains supply, or from a field drain with our specialist testing equipment.
Drains can also be tested to measure how much water is leaking out.  In addition, water samples can be tested for chemical and biological signs that effluent is present.
To inspect a drain with our CCTV drain survey video camera is simple, quick and straight forward. Our surveyor can show you the colour images in real time explaining what is being seen and then if required provide you with electronic video clips or still photos. This is especially useful if you need to provide evidence to neighbours or your insurance company .   A report with video or stills images can be provided for your insurance company along with a solution and a cost to fix.
Once we can see the problem, then it can be fixed, usually without digging up the drain or damaging you property.
We offer a state of the art Drain Repair service, see our Drain Repair page
Not all drains are the property owner's responsibility. Once a drain becomes shared, in a domestic property, the responsibility becomes that of your Local Water Authority. Check your water bill for their contact details. The drain until that point is the property owner's responsibility.
Here at The Leak Team we can survey your drains and pin point problems giving recommendations on the solution. Problems may be:
A one off item stuck in the drain – You would be amazed at what gets flushed down the drain!
A cracked drain that needs repairing.
Tree roots which need cutting back and then the drain lining.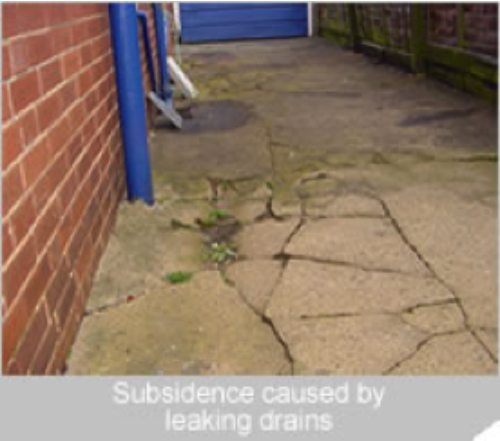 A leaking drain can cause the soil and other material around it to be washed away leaving no suport for finished surfaces above. The concrete here has cracked and is starting to collapse due to subsidence. The danger of undetected leaks: "A significant or long-term escape of water – possibly from burst or leaking pipes – can wash away the fine particles of the underlying soil. When this happens, the volume of soil beneath the property reduces and the property foundations subside." Financial Ombudsman Service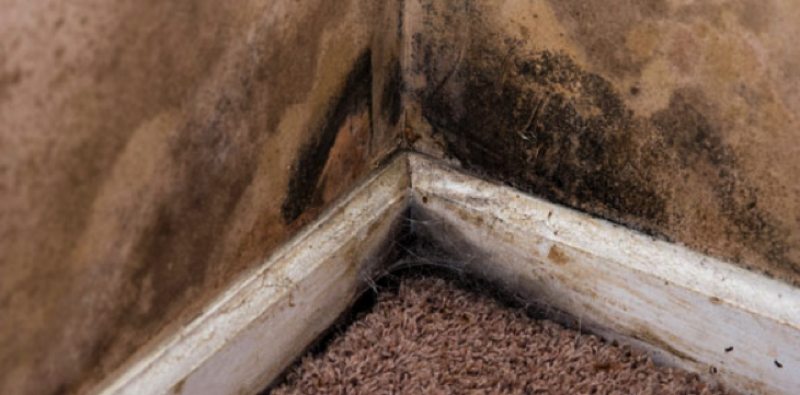 Could this kind of damage be caused by a leaking waste pipe? The answer is yes! It can also show as a fungle growth. The mushroom type fungis can grow on the skirtings, wall or your carpet.
Call us, The Leak Team now on 0800 6460330
Old damaged pipes can leak and cause smells. The pipes can usually be lined without the need to dig up the drain. The lining process forms a new pipe within the damaged pipe. If only a section is damaged then a simple patch can be inserted without digging up the pipe.
Our CCTV drain survey video camera can pin point any damage to the pipe. Then the patch can be inserted into the pipe. The patch is forced against the original pipe adhering to it and forming a stable and extremely strong repair. See the process in action here Link to YouTube drain repair
The Leak Team use the latest methods and equipment to offer a full Drain inspection and Repair service.
Our methods include:
Thermal Imaging Camera 
Sound Detection
Endoscope Camera
Drain Inspection camera
Drain Repair Kit.