"OK, let's cut to the chase with this review. This is one thoroughly professional outfit. Our boiler had been losing pressure for some time and we were getting more and more despondent because of a leak somewhere in the system which we couldn't find. We managed to find a company which would probably be able to find our leak but, unfortunately, they didn't cover our area. However, they did refer us to The Leak Team and within half an hour Charlie was on the telephone to us spelling out what service they could provide which we immediately accepted. This was quickly followed up with a comprehensive email documenting everything we needed to know and everything we needed to do prior to Andrew's visit, which included monitoring the boiler pressure on a daily basis. Charlie then emailed us a few days before Andrew's visit for an update as regards the pressure readings and double checked that we should still like Andrew to visit. This was quickly followed with a comprehensive six page insurance claims document with information as to how to approach our insurance company and what to say and do. Charlie insisted that, should we have any questions, they would always be available to help. Andrew arrived at our home in Chesterfield at 8.30am having driven down from Newcastle, a journey of getting on for three hours. Andrew is a very friendly guy, easily approachable and very, very knowledgeable. He did a comprehensive survey of all the downstairs rooms mainly using his thermal imaging camera. Two leaks were detected. A full comprehensive survey report would be emailed later that day. Andrew then gave us advice as to engaging a local plumber and what exactly he should be asked to do. Andrew also reiterated that, should the plumber require any guidance in interpreting the report, we should not hesitate to give the plumber his mobile number. It was mid-afternoon by the time he left on his long journey home which would have equated to a twelve hour day. That evening we received the following email from Charlie:
"Dear Annette and David
Please find attached our report and invoice following Andrew's attendance today.  Thank you very much for the cheque in payment.
Don't hesitate to get in touch if you have any queries regarding the content of the report.
Kind regards
Charlie"
In a word, "nothing" is too much trouble for them. Get their help if required with confidence!"
 February 2017
Jordan Called from a property management company regarding a water leak in a block of flats in Edinburgh.  Their contractors had been and cut various inspection hatches, but still couldn't find where the water was coming from. We attended and traced the source of the leak with our boroscope camera.  We sent the client a photographic report the same day, showing the cause and detailing our recommended next actions.  "From start to finish this company have been more than professional. Charlie and the team were so informative and we were kept up to date every step of the way. The report was delivered promptly and was displayed flawlessly. The Leak Team were the answer we were looking for !!! I couldn't recommend them more – it was a sheer delight ( as far as leaks go) from start to finish. 10/10 guys !!!"
Feb  2018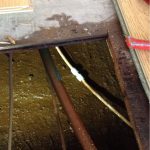 Mr & Mrs A from near Lancaster had a leak on their central heating system.  Their heating engineer had isolated the underfloor heating but their boiler was still losing pressure.  They thought they had narrowed the leak down to being under the hall floor, but this was solid oak and they wanted to avoid pulling it up if possible.  We attended and used thermal imaging to track the route of the central heating pipes through the ground floor.  We used existing inspection hatches to eliminate some areas and cut a new discreet hatch in a carpeted room and found that the leak was not under the hall floor after all and was in fact under the kitchen floor.  The leaking pipes were isolated ready for repair or re-routing, without the need to take up any of the expensive hard flooring.  All that was needed was repair to the chipboard floor and relaying of the carpet.  The clients were delighted! Feb 2015
"Very quick response, professional and courteous from initial phone call through to leaving after the leak was detected. Found the suspected leak within approx 2hrs from starting, the leak area was then confirmed by gas and microphone detecting methods. This enabled the area to be narrowed down, endoscope was then used to further narrow down the area. Following endoscope based on Andrews recommendation on the position a hole was drilled through a tile to allow for the endoscope to be placed closer to the suspected leak. The leak was approx 30cm from the drilled hole and was visible on the endoscope screen. Leak was fixed by British Gas who were very impressed by The Leak Team. The alternative without the Leak Team was to lift each of the downstairs floors (x7); this would have been a major job and very costly (circa £4k). Incidentally the leak was under the floor that we would have lifted last. I would highly recommend The Leak Team."
March 2017

"Friendly and professional. Really impressed. The report I received was really clear and because Andrew had taken the time to explain the problem to me I was able to explain properly to the loss adjuster. Would definitely recommend" February 2017
Mr & Mrs E, Keswick: 100% satisfied. "Andrew Slater was extremely helpful and did everything he could to get our business up and running again" Aug 2011
100% satisfied. "Andrew Slater provided an excellent service, promptly taking control of the situation and dealing with the Loss Adjuster" Feb 2011
Mr G, Houghton le Spring Co Durham "Service was excellent from this company, from the initial attendance of Mr Andrew Slater, who had a real 'can do' attitude to solve the problem of accessing the burst pipe." Feb 2011
Mr & Mrs P, Richmond, N Yorks: 100% satisfied. "Staff have taken a very professional approach, they have always been careful in the property and very polite and obliging, obviously trying to minimise disruption. We unreservedly feel willing to recommend your services to others." May 2012
Ms S, Ponteland Northumberland: 100% satisfied. "Thank you so much for coming to our rescue, I really appreciated it. I would not hesitate to recommend Andrew, Charlie and the team as the firm of choice. Thanks " June 2012
Rev N, Bedlington Northumberland: 100% satisfied "Very good service" Aug 2013
Major Retailer, Metro Retail Park Gateshead: 100% satisfied. "Excellent service, wouldn't hesitate to recommend" April 2013
Ms C, Stanley, Co Durham. 100% satisfied "Excellent efficient service. Staff were knowledgeable and extremely helpful as well as polite and friendly." April 2015
Mrs G, Hexham, Northumberland: 100% satisfield. "I cannot fault the service I received from Mr Slater and all his staff." March 2014
"We have nothing but praise for Andrew and The Leak Team for their expertise in finding our leak." Jan 2016
"Extremely helpful, reliable and efficient service provided. Thank you!" Jan 2016
"Thank you very much for your prompt and efficient service in finding the leak, with very little disruption to our home" Feb 2016