Have you recently noticed a mark on your wall or ceiling that wasn't there before, or is there water dripping through from above? This may indicate a hidden leak, but these water leaks are not always coming from directly overhead.
We get many enquiries from customers who have called out a plumber for a leaking ceiling. The plumber investigates, normally through destructive techniques, is unable to find the source of the leak, and leaves scratching their head. Therefore the client is no further forward, and also out of pocket from the call out charge. Professional leak detection means getting to the cause of your problem quickly and cost effectively, with the minimum disruption to your life and property.
There are many possible causes of a leak from ceiling, including central heating leaks, waste pipe leaks, bathroom leaks and even rain water getting in. The dripping water can then track along beams and pipes until it reaches its lowest point and you see the mark on the ceiling below.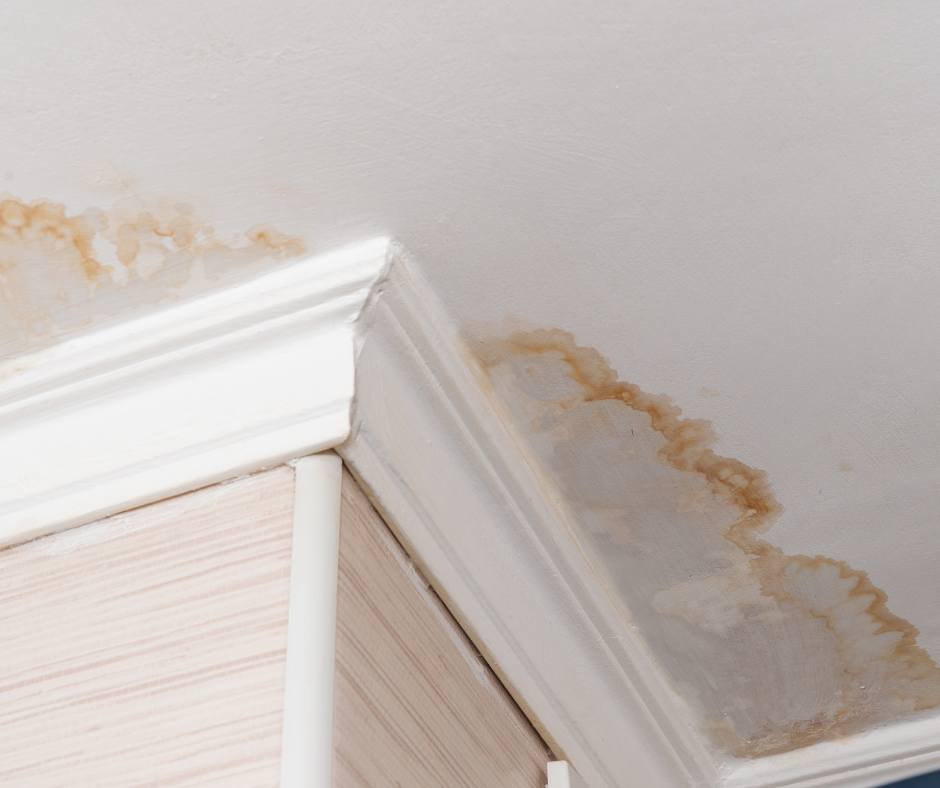 TOP TIP:  If you are able to draw a pencil line around the edge of the stain, then this will help you see if the problem is getting worse or not.  Keeping a diary of when the leak happens may help you work out if it is rain water getting in after bad weather, or maybe it happens every time your teenager has been having a 2 hour shower!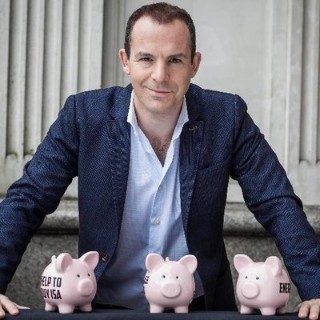 Find us on the Martin Lewis MSE forum!
As well as the main Money Saving Expert website, Martin Lewis has a forum for people to share anything from advice on loans to energy bills and even household and DIY questions. People have even been turning to Martin Lewis' forum for advice on how to detect hidden leaks. There are lots of entries on the MSE forum where home owners are wondering if they have a leak on their central heating system. Having contacted The Leak Team, we then attended their property and found their leak, with minimal damage to their ceilings or walls. Furthermore, some of our customers posted and have been singing our praises!
Common Signs of Ceiling Water Damage
Water Spots
Water spots are one of the most conspicuous signs of water damage to a ceiling. Water spots generally appear as discoloured patches of paint on the ceiling, which may have darker edges or 'halos'. It is important to note that the presence of water spots alone indicates the presence of water damage, but may not necessarily imply a current leak. Therefore, further investigation is always advised to determine the source of the original water damage and any present ceiling leaks. If you suspect a current leak and/or water spots on your ceiling, it is essential to contact a professional immediately to assess the situation and mitigate any further water leak damage.
Peeling Paint
One of the most common signs of ceiling water damage is peeling ceiling paint. Paint that appears to be bubbling or showing signs of water spots is an indication that water may have been leaking from the ceiling. In order to determine if the peeling paint is indicative of water damage, it is important to feel the surface of the paint. If it is damp, this may suggest that there is a leak in the ceiling that is causing the damage over time. Professional help should be sought in order to locate and remediate the source of the ceiling water damage. If left unattended, this type of damage can cause significant damage to the integrity of your ceiling, and therefore it is important to take swift action.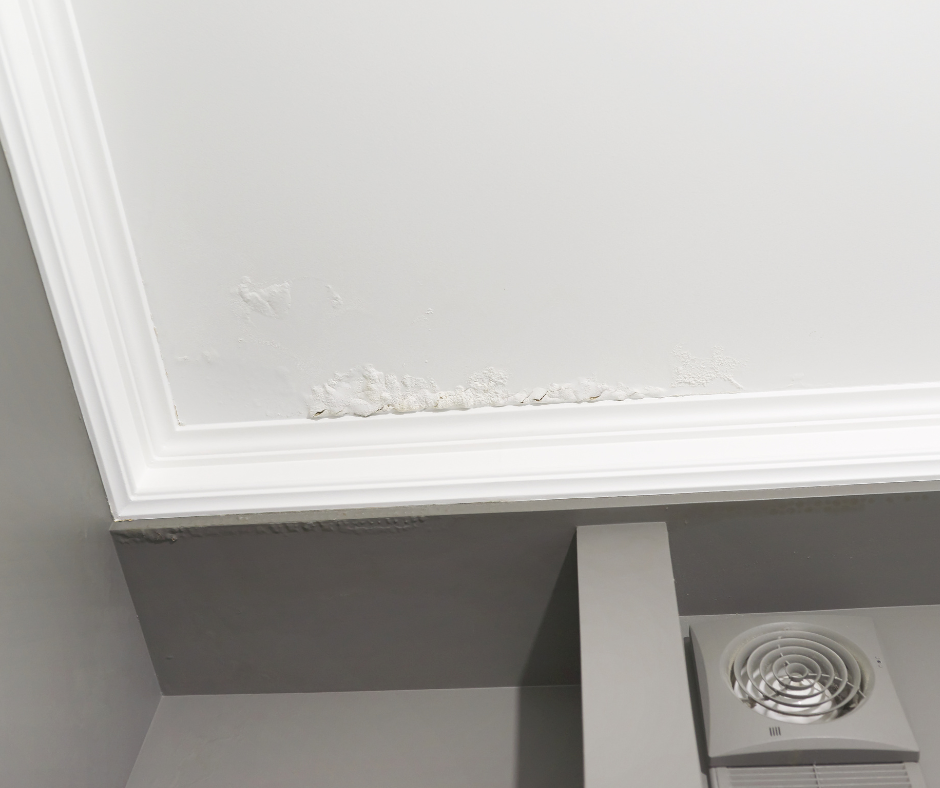 Mildew
Mildew can also be an indication of ceiling water damage. It can take the form of a white, grey, or even black powdery substance that grows anywhere there is a high level of dampness. Areas of the home that are affected by water leaks and condensation are especially prone to developing mildew. If any areas of your ceiling appears to have a coating of mildew, then this is a sign that there is a source of moisture present and the problem needs to be addressed quickly. You may also be able to spot patches of mildew on fabrics, wallpaper or other surfaces in the home. It is important to clean mildew off surfaces as soon as possible to prevent any further damage.
Discolouration
Another of the frequent indications of ceiling water damage is discolouration, which may appear in the form of dark spots or yellow stains. Discolouration usually occurs as a result of water seeping through the roof and accumulating on the surface of the ceiling. In some cases, the discolouration may be due to mould or mildew growth associated with the presence of excess moisture. If you notice discolouration on your ceiling, it is best to take action and address the underlying cause, such as a roof leak, to prevent further damage.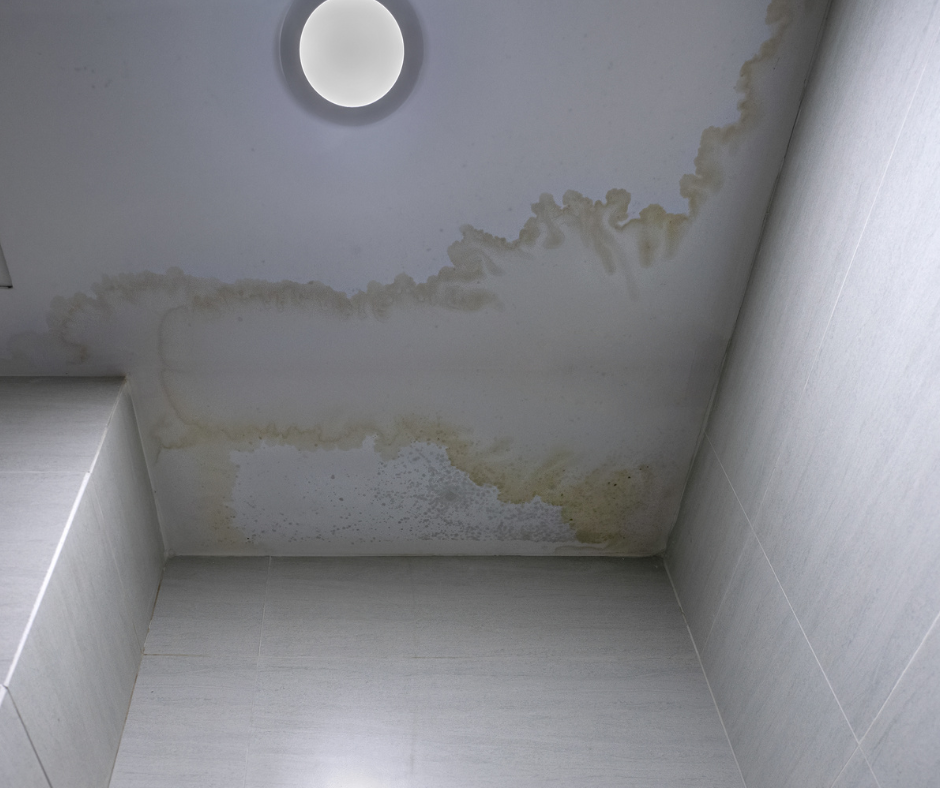 Where is My Ceiling Leak Coming From?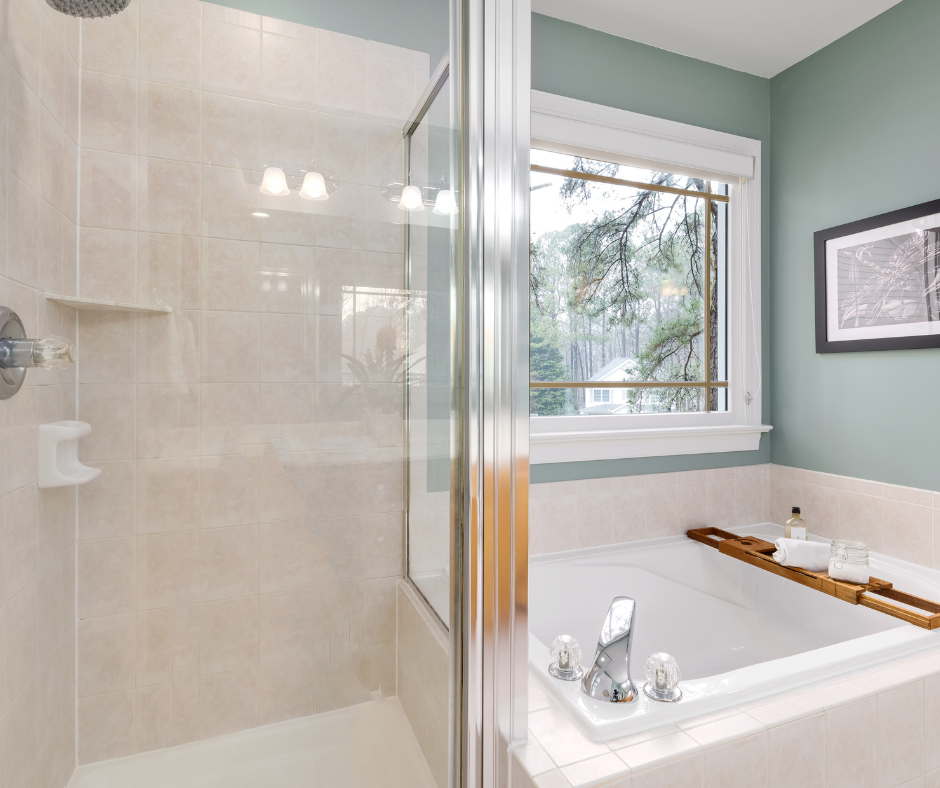 Consider Water Sources
When it comes to establishing the origin of a ceiling leak, it's important to consider the water sources. It may seem obvious, but the source of the water could be something as simple as a leaking shower, a broken pipe, a leaky roof, or a blocked gutter. Additionally, if a recurrent issue is present, consider any recent changes to the building's plumbing infrastructure that may have caused the leak, such as new fixtures or construction. By routinely checking and addressing potential water sources, you can prevent future ceiling leaks from occurring.
Checking Plumbing and Appliances
For those looking to establish the origin of a ceiling leak, it can be helpful to check plumbing and appliances in the building. Checking the water delivery pipes for potential leakage, especially if they run through the ceiling, is often a fruitful exercise. Additionally, it's worth inspecting appliances such as washing machines, dishwashers, showers etc for potential breakages or loose seals. Understanding where issues may be arising can be instrumental in pinpointing the source of the ceiling leak.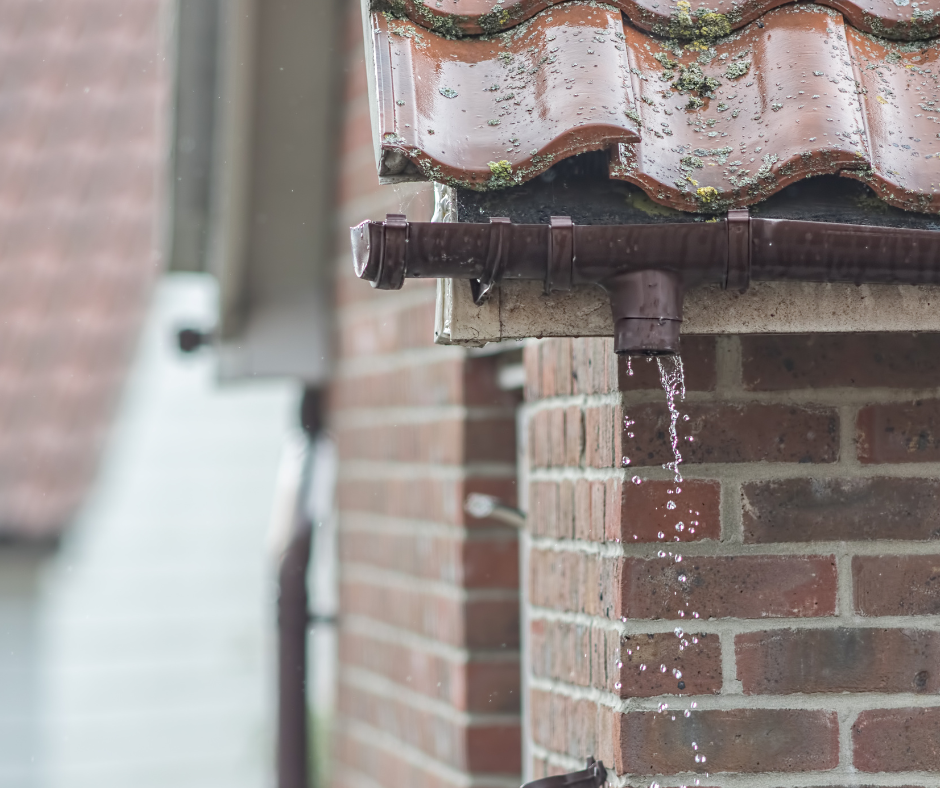 Examining Outside Sources
It is important to examine reviewing outside sources when establishing the origin of the ceiling leak. Professional help may be required to determine what may have caused the leak and trace it back to its source. Engaging the services of someone familiar with building construction and researching other houses in the area is a recommended step to take. While conducting the search, checking local weather records to determine if any known inclement weather in the area could have been responsible for the leak should be taken into consideration. Additionally, a check of any maintenance or repairs that may have been done to the roof or eaves of the building should be taken into account. All of these steps can help throughout the process of establishing the source of the ceiling leak.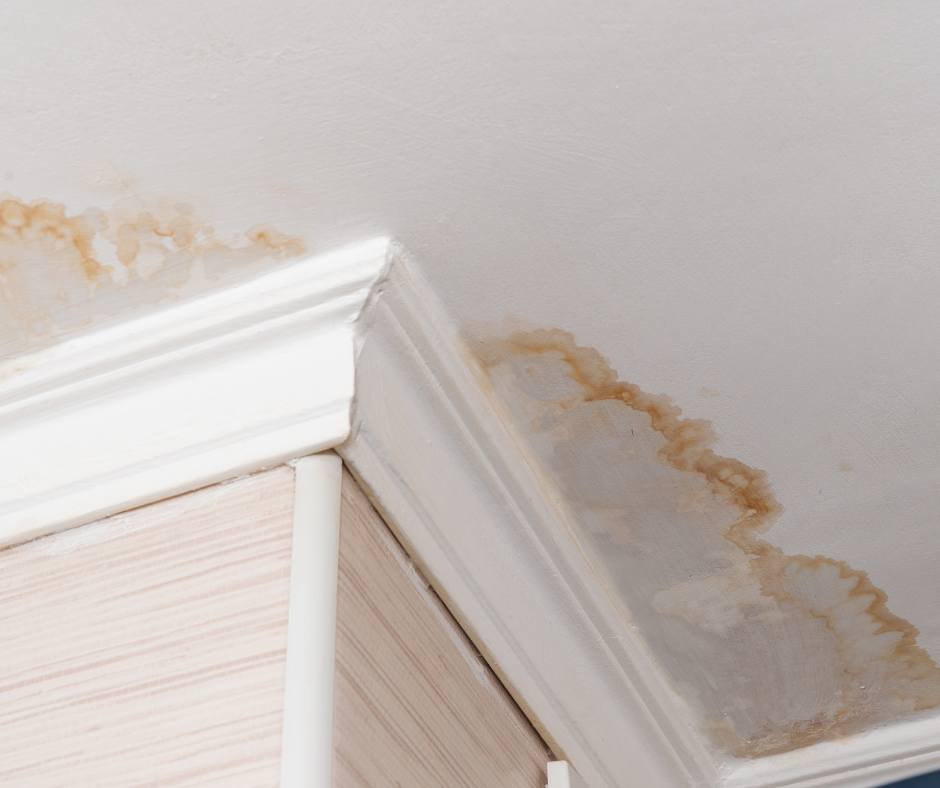 Ceiling & Wall Leak Detection
Detecting leaks above ceilings and behind walls can be tricky to do yourself with DIY tools and knowledge; it is important to get the help of a professional to carry out the task properly as you don't know what might be immediately above the ceiling or behind the wall, and you may cause more damage. We have years of experience in water leak detection and can find leaks above ceilings in kitchens, bathrooms, flats and apartments, giving you the information you need to arrange the necessary repairs.
Our team is proud of our quick and cost-effective techniques which together with our outstanding customer service mean you can let us help you save time, money and effort in investigating the source of the issue. So, if you have a mysterious leaky ceiling, contact the Leak Team now for free advice and to discuss our services.
Detecting and Fixing Ceiling Leaks
Detecting and fixing ceiling leaks can be problematic without the right equipment. Common signs of a leaking ceiling are water spots, peeling paint, mildew and discolouration. Ceiling leaks can be from hot and cold water pipes, waste pipes, faulty appliances, poor grouting and silicone, and also from external sources. Call us now on 0330 102 5572 so that we can discuss your issues and find out if you need our specialist ceiling leak detection service. We have extensive experience and knowledge and the latest tools for diagnosing and finding ceiling leaks in a safe, efficient and cost-effective manner.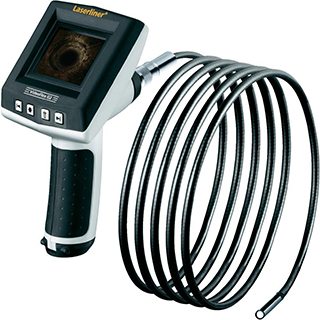 Ceiling Leak Detection Equipment
The Leak Team can attend your property and track down the cause of your ceiling leak.  Using our specialist equipment and expertise we can trace the leaking water back to its source.   We can use endoscope cameras to see hard to reach places and thermal imaging to discover the extent of the wet area.  We can check the integrity of your drainage system to see if your waste pipes are leaking and pressure test the pipes to your taps to rule out a water leak on fittings and connections.  We may even replicate heavy rainfall to check if that is what is causing the staining on your wall or ceiling.
Fixing a Ceiling Leak
Once we have traced the origin of you leak from upstairs, then we can make recommendations on the best way to fix the leak and stop the problem from happening again. Our service includes a photographic survey report with detailed information to help whoever comes after us to carry out the repair work needed. You can also send this report to your insurers if you have Trace & Access cover on your buildings insurance which may reimburse you our fee along with the cost of the ceiling repair.
The Benefits of Using Our UK Leak Detection Services
Professional leak detection services are a must for any property, big or small, where there is a hidden leak. Not only do they save time, money, and worry; they can also help to minimise disruption to your home or business. The Leak Team uses the latest leak detection technology and methods. Our services mean we can locate ceiling and wall water leaks to help you to repair any issues in the most efficient manner possible.
If you have an unexplained stain on your ceiling or wall, then call The Leak Team now on 0330 102 5572 or email us at info@theleakteam.com, giving your postcode and a short description of your leak and we can give you free advice, with no obligation.

Please view a number of our client testimonials.
You can also see our 5 STAR reviews on Google "Absolutely amazing service! The only professional to have really listened to our needs and resolved our very complicated heating system when no one else could! Highly recommend The Leak Team."
February 2022
We had tried checking all the easy access places with no luck. The Leak Team found our leak in the last place we would have looked. Saved so much time, effort, disruption and worry. October '17
The Leak Team arrived on time, soon had the problems identified and the report was completed within 24hrs. Using the heat and sound gizmos proved really informative. Recommended. October 2018
Very professional fast service, kept informed at every stage, attended on time, very comprehensive results quickly emailed to forward to insurance company. All in all a very good, friendly and professional service which I would recommend to anyone. August 16